We Ran For Orphans!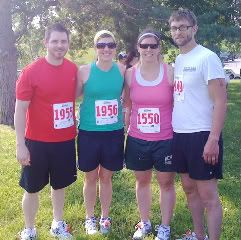 We did it! Our team ran our first race via
I Run For Orphans
! We had a great time and so far have raised $1165.00 to go towards the building cost of the fourth
His Voice
orphanage in Southern Sudan. We are SO thankful to all who have supported our team. If you are still interested in giving to our team and ultimately to the kiddos in Sudan, our giving pages will be up for the next week. Click the below links for our giving pages. THANKS again.
Vernon's Giving Page
Justin's Giving Page
Allison's Giving Page
Amber's Giving Page